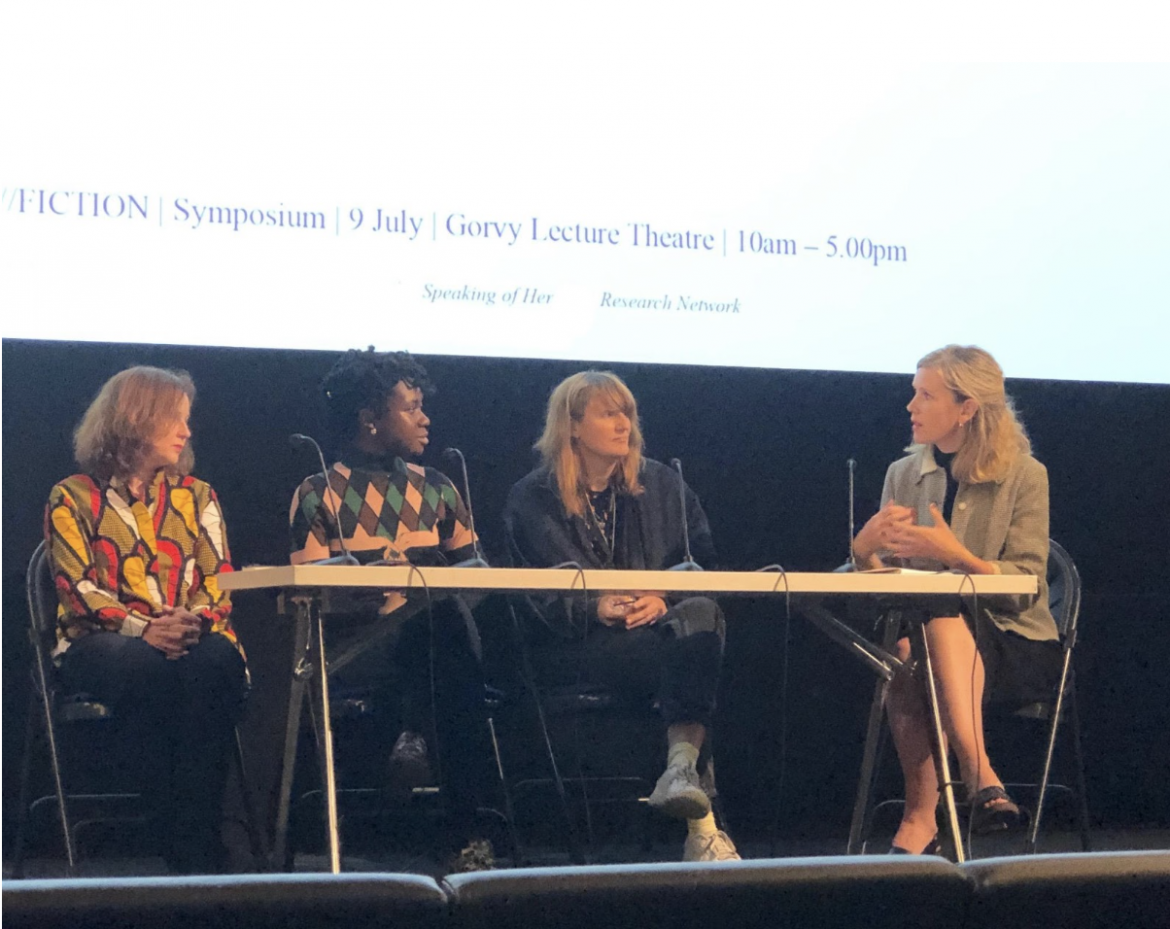 Speaking of Her

Speaking of Her is a new network for art practice and research that aims to both explore and create women's histories and legacies. The network came together at the beginning of 2019 to organise events and exhibitions, hold discussions and share research. Our priority is to instigate, enable and disseminate feminist discourse around creativity and legacy through exhibitions, writing, reading groups and publications. We are particularly interested in finding new methods of retrieving women's cultural contributions that have been under-valued or omitted from history, as well expanding historical accounts to include women's presence and perspectives. The group has been convened by artists and writers, all involved in research at different stages, who wish to invite collaboration and dialogue with an extended network of researchers and creative practitioners through research residencies and events/symposia.
Our steering committee is: Juliette Blightman, Caroline Douglas, Dr Chantal Faust, Professor Rebecca Fortnum, Marita Fraser, Amelia Stein and Sharon Young. All are developing individual research projects along-side their work with Speaking of Her. Recent collaborators include Nadia Hebson, Carol Mavor and Onyeka Igwe, among others. In the past year, we have held the events Say Something Back (lecture), Merton College, University of Oxford; AutoFiction (exhibition and symposium), Dyson Gallery, Royal College of Art and Gorvy Lecture Theatre, Royal College of Art; and Speaking With (symposium), Gorvy Lecture Theatre, Royal College of Art.
Events by Speaking of Her Network

Say Something Back
Lecture: 28.02.2019, T S Eliot Lecture Theatre, Merton College, Oxford, UK
Accounting for historical omissions is a tried and trusted method of feminist scholarship, lives and work are necessarily 'fished out of obscurity', as the poet and philosopher Denise Riley has put it. But when the traces from the past become thin on the ground, or a more intimate register is called for, what artistic strategies can be used to recover the histories and work of women's creative contribution?
The afternoon featured presentations from six artists, all of whom foreground research processes that use re-creations, re-enactments or suggest a possibility of entering into dialogue with the past. This conjuring forth of unknown or unseen lives and practices, as a kind of seance or act of ventriloquism, extracts women's voice from archives or texts, leading to the possibility of a recalibration of value.
Participants: Juliette Blightman, Caroline Douglas, Chantal Faust, Rebecca Fortnum, Marita Fraser, Sharon Young.

Speaking With
Symposium: 12.06.2019, Gorvy Lecture Theater, Royal College of Art, UK
Speaking With was a one-day event that explores voicing historical subjectivity through interdisciplinary and feminist discourse around researching, writing and making.
Speaking of historical subjects through re-enactment strategies allows the subjectivity of the researcher and the subject of enquiry to be reviewed through a new kind of lens. It allows for framing of subjects through multiple voices outside of institutional narratives and allows for what we might term 'fandom' to be re-examined as a legitimate form of academic framing and thinking. In art practice, literature and academia there is a re-emergence of thinkers who utilise what we will call 'speaking with', as different to speaking 'to' or 'for' as a method for researchers and artists working with a historical subject.
Organised by: Marita Fraser, Caroline Douglas.
Participants: Nadia Hebson, Carol Mavor, Marita Fraser, Juliette Blightman, Caroline Douglas, Onyeka Igwe, Sharon Young, Armelle Skatulski. Chair: Rebecca Fortnum. Responder: Felicity Allen.

AUTO//FICTION
Exhibition: 9-12 July 2019, Dyson Gallery, Royal College of Art, UK
Participants: Helen Barff, Juliette Blightman, Sharon Young, Chantal Faust, Rebecca Fortnum, Marita Fraser, Gill Houghton, Tami Izko, Lali Khalid, Janice Levy, Mars, Nadège Mériau, Trish Morrissey, Mark Riley, Colette Standish, Poppy Whatmore. Performance: Marianne Mulvey. Curator: Linda Rocco. Organised by: Marita Fraser, Sharon Young.
Symposium: 9.7.19, Gorvy Lecture Theatre, Royal College of Art, UK
Speaking in the first person or adopting the position, within a text, of an ambiguous merging of author and protagonist (Nabokov, Borges, Lessing, Woolf) has, in recent times in academic discourse (Palmer, Cattle) and literature (Kraus, Nelson), had a resurgence. In art practice, literature and academia there is a re-emergence of thinkers who utilise non-normative writing methods to challenge the role of traditional language. Drawing from ideas stemming from New French Feminist theory (Helene Cixous, Luce Irigaray, Julia Kristeva) and looking to contemporary authors (Sally O'Reilly, Maggie Nelson, Chris Kraus) as well as leading artists who explore identities of self in their work (Charlotte Prodger, Beatrice Gibson) we are initiating a conference to invite practitioners, writers, academics and researchers to create inter-disciplinary discourse around writing and making in auto-fiction.
Participants: Sally O'Reilly, Sharon Young, Charan Singh, Tanya Augsburg, Marita Fraser, Adjoa Armah, Beatrice Gibson, Niklas Lichti, Federica Bueti, Esme Boggis, Ralph Pritchard, Juliette Blightman, Tom Smith. Chairs: Marita Fraser, Sharon Young.

Existing Network Members

Juliette Blightman has exhibited in solo shows at Kunsthalle Bern, Switzerland; South London Gallery and the Irish Museum of Modern Art, Dublin. Her performances and video works have been presented in Hayward Gallery, London; Kölnischer Kunstverein, Cologne; Kunsthaus Bregenz, Austria and at the Institute of Contemporary Arts, London. Her research practice focuses on the relevance of feminist literature of the last one hundred years to creative practice, technology and motherhood. Juliette is a current PhD candidate at the Royal College of Art.
Caroline Douglas was the recipient of the 9th Helen Keller International Award and Magenta Foundation Flash Forward Award (2016). Selected exhibitions include Galerie Huit, Arles, Columbia University, Stills Gallery, Brighton Photo Fringe, Format Festival, Künstlerhaus Dortmund. Residencies include School of the Art Institute Chicago, AiR Fondazione Fotografia, Modena and Proekt Fabrika, Moscow and Visiting Scholar at the University of St Andrews (2016). Her practice-led research explores the possibilities of recovering some of early photography's 'unknown women' and is a current PhD candidate at the Royal College of Art.
Dr Chantal Faust is an artist, writer and researcher. Her research interests focus on the scanner as a conduit for the study of visualisations of touch, immediacy and blatancy, extending into a practice of works in video, performance, photography and painting. Recent exhibitions include Solitary Pleasures, Freud Museum, London (2018); Natur Blick, Koppel Project Hive, London (2018); Antipodean Emanations, Monash Gallery of Art, Melbourne (2018); and PUSH IT, Lychee One Gallery, London (2016).
Professor Rebecca Fortnum is a painter, writer and researcher. She was Visiting Research Fellow in Creative Arts at Merton College Oxford in 2018 where she developed her project A Mind Weighted with Unpublished Matter, that includes paintings and drawings of known and unknown female subjects from sculptural portraits in Museum collections, including the Ashmolean. Fortnum has had solo shows at the Freud Museum and the V&A's Museum of Childhood and edited a book of interviews with British women artists, In their own words, as well as On Not Knowing; How Artists Think, a book of essays that examines contemporary artists' processes.
Marita Fraser an artist, writer and researcher exhibiting internationally, including exhibitions with Kunsthaus Vienna, Städtisches Museum Engen, Atelierhaus Salzamt Linz, Kunstverein Wilhelmshöhe Ettlingen, MU Eindhoven, Concertgebouw Brugge and Perth Institute of Contemporary Art. In 2016 she was awarded the ArtReview Casa Wabi Residency Award and was resident at Museums Quartier Vienna (Q21). Her research interests include feminist performative scores from the 1960's onwards; Margaret Mackintosh and her influence in the formation of the Weiner Werksadt and her collaborative pratices; contemporary performative texts; and expanded forms of feminist painting practices. Marita is a PhD candidate at the Royal College of Art.
Amelia Stein is a writer and researcher. Her writing on art, design and contemporary culture has been published in over 30 titles, including The Guardian, Architectural Review, Spike and PIN-UP. In 2012, she was commissioned to edit a book of interviews with artists, writers and thinkers reflecting on Occupy Wall Street (The American Spring: What we talk about when we talk about revolution, Skyhorse Press). She holds an MFA in Nonfiction Writing from Columbia University and is a Contributing Editor at Real Review. Her research interests include how writing can express and enact ideas of relation, coalescence and associative logic in contemporary art and design. Amelia is a PhD candidate at the Royal College of Art.
Sharon Young is an artist whose works are held in collections and exhibited in institutions such as the V&A, Tate Liverpool, Venice, Encontros das imagem, Goa International Photography Festival, International Photography Awards, New York and Recontres des Arles. Her research practice seeks to discover whether 'hysterical narrative' can be rehabilitated to new ends with an interest in a feminist interpretation, of 'hysterical narrative' as agency, through photography and autofiction. Sharon is a PhD candidate at the Royal College of Art.