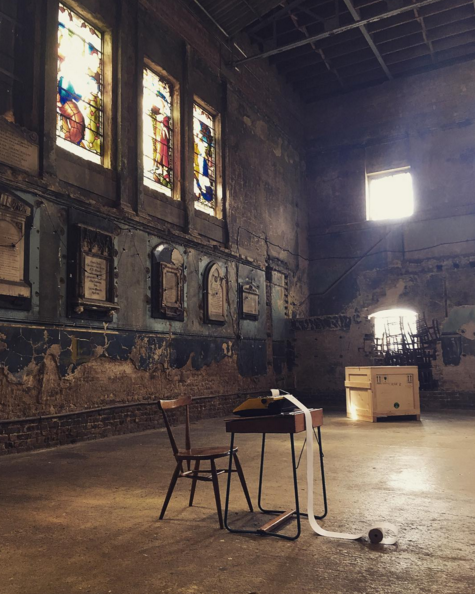 COLLECTIONS
V&A Library
Yale Centre for British Art
PhotoIreland Foundation
CONFERENCES / Speaking Engagements
San Francisco State University, February 2020, 'Watch your Lip!'
Academic Lead with Yifei He for RCA Executive Education Summer School;
Pushing Boundaries; Explorative Art Practices (July-August 2019)
Auto//Fiction, RCA, 9th July 2019
Co-directing with Marita Fraser with key notes Sally O'Reilly, Tanya Augsburg and Beatrice Gibson.
PSi 25, Calgary, Canada, 4th July 2019
Elasticity of a Concept – Notions of Hysteria speaking with Tanya Augsburg, SFSU, Johanna Braunn, UCLA and Cecily Devereux, University of Alberta
Speaking with,
RCA, Gorvy, 12th June
Performance of A public display of confession and panel discussion at symposium with keynotes Carol Mavor and Nadia Hebson. Directed by Marita Fraser and Caroline Douglas.
Ithaca College, New York, March 2019
Say something back Merton College, University of Oxford, February 2019
She is Hysterical! University of California, Los Angeles, November 2018.
Royal College of Occupational Therapists
Waterfront Hall, Belfast, June 2018 ,[delegate speaker with Diana Ramsey]
Institute of Psychiatry, King's College
Maternal Journal, May 2018, [delegate speaker with Professor Rebecca Fortnum]
RESIDENCIES
The Afterlife of the Object, University of Copenhagen, June 2019
XYZ, a ilha, Lisbon, May 2018
Object of Research, Institute of the Arts, Cumbria, June 2018
Fellowship University of Northumbria with Arts Council England, 2005
EDUCATION
PhD candidate, Royal College of Art (2016 – present)
MA Photographic Studies, University of Westminster (2011)
BA Contemporary Photographic Practice, University of Northumbria at Newcastle. First Class Hons. (2004)

SELECTED EXHIBITIONS:
The Expanded Librarian; CRASSH, University of Cambridge – February – March 2024
Summer Chorus (from Ms B), The Freud Museum, September 2023
Hopscotch; Copeland Gallery, RCA research bienale, Opening 21st June 2023; Skies over places we kissed
Peckham 24, May 2023; Watch Your Lip!
Stroud Film Festival, March 2023; Watch Your Lip! and Erotomania screenings and live perfomance
Marginalia at The Freud Museum; Sharon Kivland and Sharon Young, 8th March 2023, 4pm
Gesticulator, ASC Gallery, London, 2023
Ms B; 228 Chingford Mount Road, September 2022
She Speaks Up; 228 Chingford Mount Road, November 2022
Research Biennale, RCA, 2021
Auto//fiction, Dyson Gallery, London, July 2019 – PV 9th July 5.30pm
There's something lurking in the shadows that might be interesting, Dyson Gallery, London, March 2019
209 Women; Westminster and Open Eye Gallery, Liverpool Feb 2019
Helsinki Photo Festival, July – August 2018
Tate Exchange, Venice Vending Machine, Tate Liverpool and Venice, July – September 2018
Family of No Man, Cosmos, Arles, curated by Natasha Christia and Brad Feuerhelm, July 2018
Flight Mode, Assembly Point, Peckham, July 2018
Asylum, Peckham, July 2018 – Performance 'A public display of confession' 3 hour durational live writing
Asylum, Peckham, July 2017 – Performance 'A public display of confession' 2 hour durational live writing
Amp, Peckham, July 2017 – Subtext of a Dream – large scale photographs and cut and paste text poems
Brighton Photo Fringe, 1-31st October 2016, Phoenix Theatre and Outdoor Hub, St Peter's Church.
They all say please, White Cloth Gallery, Leeds, 31st May – 17th July, 2016
Procreate Project, Touring to Goldsmiths Women's library, London, Museum of Motherhood, NYC and Lace Market Gallery, Nottingham Feb – April 2016
They all say Please, Soho, London, 18th March – 30 April, 2015
Goa International Photo Festival, Portraits from an Island, Feb 2015
Centre Photographique, Clement-Ferrond, France, Feb – May, 2015
Brighton Photo Biennale – Night Contact projection, October 2014
Encontros da Imagem, Braga, Portugal, Sept – Oct 2014
Encontros da Imagem, Braga, Portugal, Sept – Oct 2013
InstantLOVE, MadArt Gallery, Dublin, 12 Jan – 2 Feb 2013
Rua Red, Dublin Arts Centre. Oct – Dec 2013
WestPhoto, London and Zurich, 2013
Light Sensitive, P3 Ambika Gallery, London, 2013
If you get married again… Art Jericho, Oxford. 26th July – 19 August, 2012
AOP, London, 2010
PUBLICATIONS AND AWARDS:
Care(less) MA Bibliotheque
Abridged Magazine, NYX; The Subtext of a Dream, 2020
TULCA festival, Galway. There's nothing to look forward to but the past. Text commission in response to Nadège Mériau's photographically based work, 2020-2021.
Prova, RCA Arts and Humanities research journal, written and image contributions and contributing editor.
The Subtext of a Dream, self-published artist book, December 2017.
Nominated for MACK first book award, 2016
Slate magazine, 2015
Flash Forward, Magenta Award, UK winner, 2011
Worldwide Photography Gala Awards, shortlisted, 2011
Royal Photographic Society Journal, Dec Issue, 2011
International Photography Awards, Fine Art category, 1st place
Royal Photographic Society Bursary, 2011
Arts council bursary, Individual Artist Award, 2004